by Thomas Hine, For The Inquirer Published May 6, 2021
Inside the Art Museum's new galleries, a promising profusion of art-makers and more expansive narratives
An exhibition of works by local art-makers opens the Philadelphia Museum of Art's new contemporary galleries. The new Early American galleries reframe that collection to tell a more inclusive story.
Museum visitors walk near the art of Kukuli Velarde in the new contemporary galleries at the redesigned Philadelphia Museum of Art
These works underscore the brute force with which European colonial culture built over and often obliterated Indigenous religion and art, and at the same time express a kind of exuberance in their hybrid nature. To be American is often to a be a lot of things, all at once.
For me, these figures sum up the experience of seeing the newly expanded and renovated Art Museum building and the two new sets of galleries they contain, all part of Frank Gehry's grand design. Their piggyback configuration evokes the odd new shape of the museum itself, in which the building's monumental stair hall sits atop the newly created, almost equally monumental forum.
More important, their confident multiculturalism catches the tone of the recent works by 25 Philadelphia-associated artists in the "New Grit" show and also of the interconnected global culture documented in the new permanent galleries dedicated to American art from 1650 to 1850.
Given the size of the renovation, which reconfigures and renovates about 90,000 square feet, these two 10,000-square-foot galleries seem to be only a modest addition to the museum's total gallery space. However, this phase of the project was meant only to set the stage for a future massive gallery expansion beneath the iconic outdoor steps. The new galleries, which are on the same level as the west entrance are not part of the downward expansion.
New prominence for local artists
"New Grit," which includes several works commissioned for the show and others created during the last year, gives living local artists a prominence they rarely enjoy at the Art Museum. It's not clear, though, whether this attention to Philadelphians will be part of the program going forward.
This opening exhibition has a cross-disciplinary approach that is rare for the museum, but probably essential in a time when, for example, David Hartt produces a work that consists of a video and a tapestry.
The artists were chosen with a welcome eye toward diversity; more than half identify as people of color. Many of the works address issues of identity.
Tiona Nekkia McClodden's multipart video installation Be Alarmed: The Black Americana Epic, Movement 1 — The Visions connects the artist's own family history and her North Philadelphia neighborhood with larger stories of Black America. Hiro Sakaguchi's paintings of gadgets and debris evoke the precision, profusion, and playfulness of the Japanese visual culture in which he was raised. Nigerian-born painter Odili Donald Odita's bright-colored, abstract Walls of Change, commissioned by the museum for a corridor outside the galleries, was inspired by last summer's Black Lives Matter protests.
Doug Bucci deals with a different sort of identity — as a diabetic since childhood — in an ornately macabre table setting, replete with sweets that seduce and can kill him. The table, complete with a moat upon which the dishes can float, looks a bit like something on which an autopsy might be performed.
The environment is another major theme of "New Grit." In Yellow Forest 2, Mi-Kyoung Lee, a Korean-born artist, uses plastic twist ties to create a dense, textured, apparently straw mat. It does not preach or warn. By making mundane manufactured materials appear so natural, and so beautiful, Lee gently provokes viewers into considering their careless consumption.
Early American, more broadly defined
The extensive new Early American Galleries contain many of the items longtime visitors associate with the collection and might expect: rococo-carved, Philadelphia-style mahogany high chests, portraits, and prodigious quantities of silver.
But the exclusionary Anglophile framing of works from Philadelphia's colonial past has been replaced with a more inclusive presentation that recognizes the city's free Black community, enslaved craftsmen, Dutch silversmiths, and German cabinetmakers, among others. Mexico, South America, and China make important appearances since all were part of a system of global commerce and influence intersecting here.
An unknown artist's San Diego de Acalá, a late 17th-century Mexican painting with mother-of-pearl inlay, epitomizes the internationalism of the colonial period. Its setting is Mexican, its subject is European, and its style shows a strong influence from Asia.
The first work visitors encounter is Indigenous: the wampum belt which, according to Penn family tradition, was given to William Penn by Tamanend, a leader of the Lenape peoples, to mark the 1682 treaty between them. A masterful carved wooden beaver, made after the Lenape were forcibly displaced from their homeland and pushed west, joins it as one of a few Native American pieces in the show.
A wall panel explains that a decision was made in the 1930s and 1940s to classify Indigenous works from this period as artifacts rather than art and exclude them from the Art Museum; it has not actively collected them since. "With the loans in this installation, we begin to confront the omission," it says. A different panel carries a land acknowledgement recognizing Philadelphia, "with gratitude and humility," as being "part of Lënapehòkink, the ancestral homelands of the Lenape peoples."
Another wall panel at the beginning of the exhibition underscores that "nearly all the works of art in the American galleries bear connections to slavery." Enslaved artisans produced several of the works on display here, and the enslavement of human beings was an underpinning to the economy that brought other people the wealth to acquire the kind of luxury items shown.
In one of the new gallery's highlights, two of the museum's marquee paintings of the era go head-to-head in a comparison that pits artists who went to England at the time of the American Revolution with those who stayed: John Singleton Copley's Portrait of Mr. and Mrs. Thomas Mifflin (Sarah Morris) painted in 1773, and Charles Willson Peale's Portrait of John and Elizabeth Lloyd Cadwalader and their Daughter, Anne, painted in 1772.
Copley, the Boston artist who sided with the British, is generally agreed to be the greater painter, though I have always loved Peale's Cadwalader group because of its warmth and informality. Daughter Anne is sitting on a table, which is also on display. This grouping of portrait and furniture used to be shown apart from the American collection in a period room. It is good to see it in a place that is easy to find.
A rare and compelling pair of portraits, of Hiram Charles and Elizabeth Brown Montier, painted by Franklin Street in 1841, also have pride of place in the newly configured collection. Hiram Montier was a bootmaker, and he and his wife were prominent members of the city's free Black community. He was a descendant of Philadelphia's first mayor, Humphrey Morrey, appointed in 1691.
The museum's encyclopedic Pennsylvania German collection has been rescued from the building's backwaters and is exhibited side by side with the English-influenced furniture for which Philadelphia has long been known. In one such vignette, the famous Fox and the Grapes (1765-75) high chest from Philadelphia is exhibited side by side with a huge clothes press from Lancaster County that is its near contemporary. Each is monumental in its own way.
With nearly 800 objects on display, this is an overwhelming collection. Probably a few visitors will be attracted to one of the items that has never been shown, an exuberantly Empire canopied bed made for Joseph Bonaparte, Napoleon's brother, for his house in New Jersey. It is easy to imagine resting there after taking everything in.
Published May 6, 2021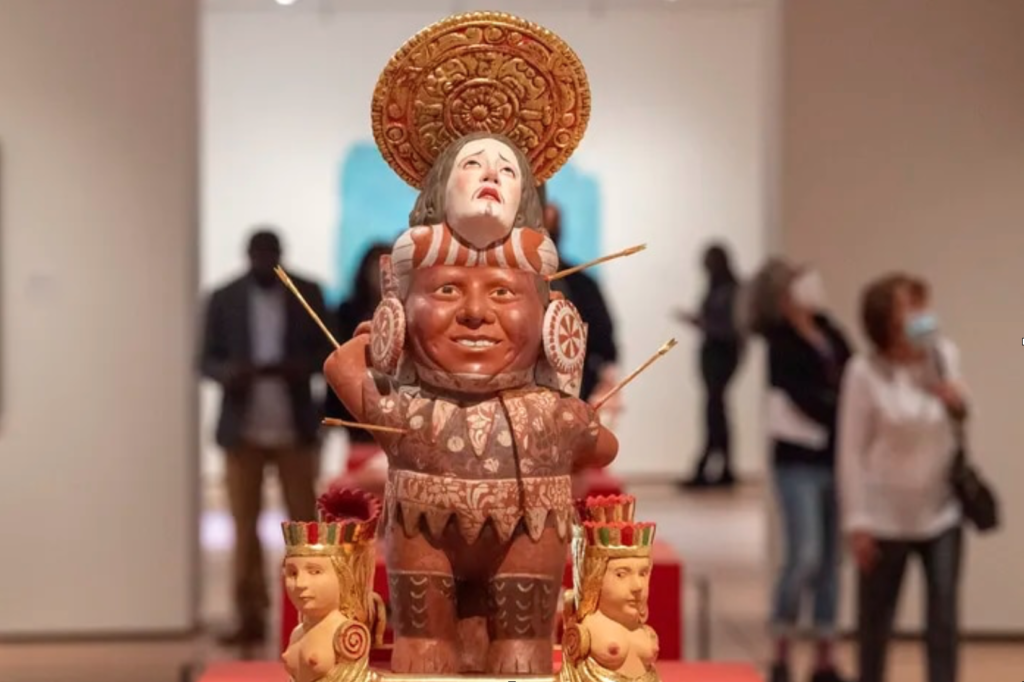 JOSE F. MORENO / Staff Photographer